What Makes a Bespoke Suit Different from Other Suits?
May 15, 2019
Most men know what it's like to buy an off-the-rack suit. More than likely, there's one (or more) hanging in your closet right now. Do they get the job done? Sure. But, do you feel the most confident when you put it on? Probably not.
When it comes to finding a high-quality suit, there are certain terms that get tossed around: custom, made-to-measure, and bespoke. To help distinguish between these terms, here are some differentiators between the three categories.
What is a custom suit?
Custom can mean anything. Choosing a colored lining or fancy buttons gives a suit maker the right to call it "custom." Bottom line, "custom" means you've had some say in the suit's design, but the suit isn't necessarily made for your body. A custom suit is made in a factory, and any changes are altered by a tailor.
What is a made-to-measure suit?
Made-to-measure suits are created with a pre-existing pattern but provide the ability to make size adjustments based on your body type. When I first started out in the industry, I used a made-to-measure manufacturer. I quickly learned that I couldn't fit everybody with a standardized paper pattern that had to be altered on multiple occasions. Ultimately, most made-to-measure suits can't make adjustments for shoulder slope, posture, or any significant asymmetrical irregularities in your body, and most men are now built with very broad shoulders and a more narrow waist, so there's only so much a tailor can bring in around that area.
What is a bespoke suit?
A true bespoke suit is more of an art form. Originating on Savile Row in London, Bespoke means "to be spoken for." A bespoke suit allows you to speak into every step of the process—from fitting to fabric to final touches. The bespoke process involves creating a unique, original pattern specific to a client's body structure. Unfortunately, the word "bespoke" has lost the impact it once had in the industry, as most custom clothiers will claim to deliver a bespoke garment, but nearly all of them use a made-to-measure process.
5 Benefits of Going with a Bespoke Suit
How does the experience of purchasing a bespoke suit differ? Here are a few specific variations to consider if you're looking to create a genuinely custom suit:
1. Personal Pattern-Making
Instead of using the standardized patterns for custom suits, tailors use an individual pattern each time for bespoke tailoring. This method allows us to note every detail and to treat each client as truly unique.
2. Unlimited Customization Options
If you're looking for a true one-of-a-kind suit, bespoke is the way to go. There is no finite list of options. Your bespoke suit can be modified—no matter how complex your request.
3. Fabric Selections
When it comes to finding the perfect fabric for your suit, there aren't nearly as many custom and made-to-measure options as we provide our clients with a bespoke suit. You'll have unlimited options to choose from, as we have relationships with some of the most world-renowned fabric mills, including (but not limited to) Scabal, Dormeuil, Holland & Sherry, Cerruti, and Gladson.
4. Amount of Measurements Taken
We take ample amounts of measurements so that you don't have to do the typical, four-fitting process. Our measurement process is more detailed than any other process you've ever encountered, as we will take 40-plus body measurements to make sure your garment will fit perfectly and that takes into account your specific shoulder sloping and posture. These specifications are not taken into account with a made-to-measure suit.
5. Time with Your Personal Tailor
One of the reasons Richards Bespoke fittings are by appointment only is that it allows us to control the tailoring process for each individual client. We walk through the entire process with you from start to finish.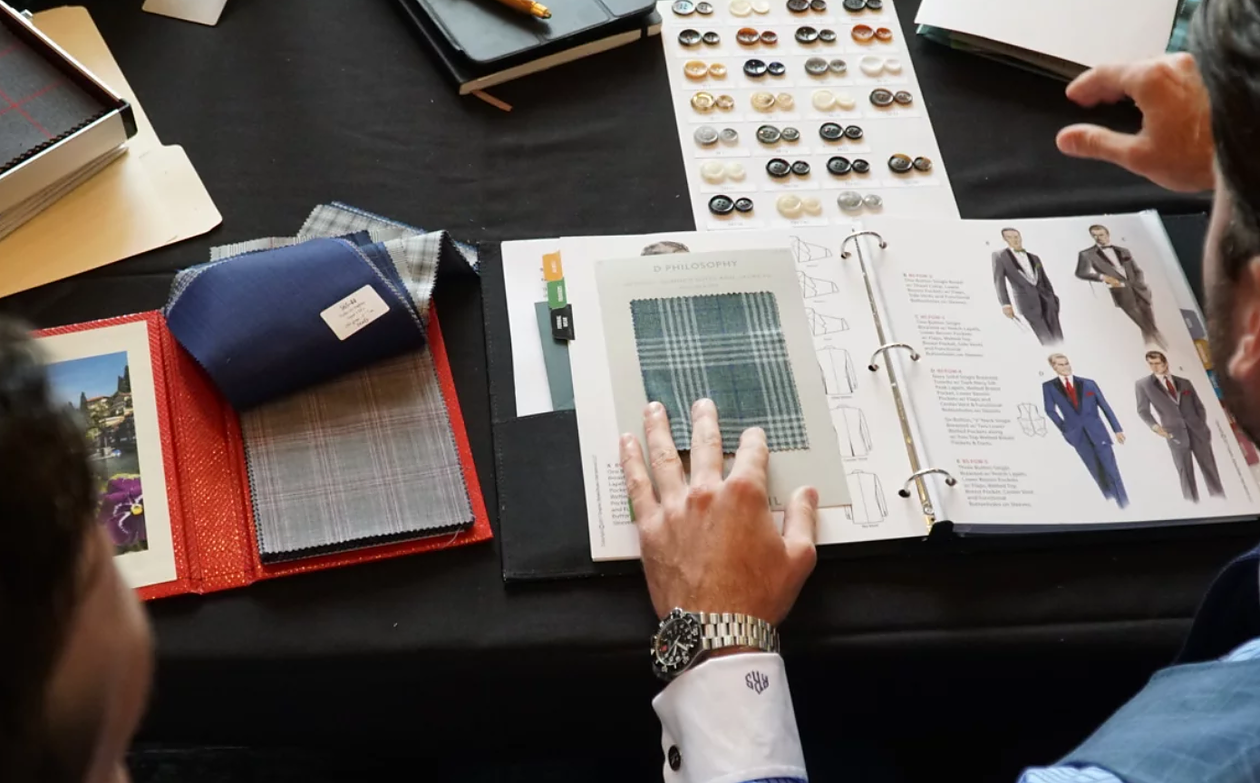 Speak Your Perfect Suit into Existence
The primary difference between the options isn't as much about money or quality (although, they do differ). Instead, the difference in terminology is more about the control you have in designing the perfect suit for your unique body shape and style. It's about an art form vs. factory efficiency. Bespoke suits are handmade and 100% unique. Off-the-rack suits—and even custom suits—come from uniform, mass-produced factories.
Every Richards Bespoke client experiences a true bespoke process and product from start to finish. Not only do my clients choose each and every detail, but each garment suits each individual to exact specifications. With bespoke clothing, everyone is able to see and (most importantly) feel the difference, so be prepared for others to take notice, too.
Contact Richards Bespoke today to schedule an appointment for your first fitting and to learn more about our process.