OUR MOST REQUESTED PERFORMANCE FABRICS
April 23, 2020
Every year, we travel to NYC and Chicago to attend designer forums put on by the Custom Tailors & Designers Association (CTDA). One of our main objectives during these trips is to meet with our mills and select what fabrics we will carry for the next season. We are educated by the most knowledgeable people in the world so we can better explain to our clients what the most popular fabric innovations are being offered in the custom clothing industry.
Our Most Popular/Requested Types of Performance Fabrics:
Stretch
Wrinkle-Resistant
Breathability
Water-Repellent
Travel Ability
 1. STRETCH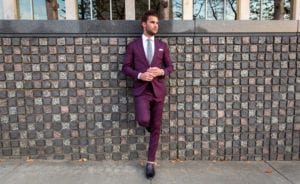 Stretch has become by far our most popular/requested innovative feature in suiting—and more importantly, natural stretch (wool that is 100% woven and not mixed with a synthetic).
If you're like me (as well as most of my clients), you prefer a more modern/trim fit, which can oftentimes create restrictions in comfort if you're having to wear a suit for a long period of time. Whether you're walking up and down stairs, sitting for a long period of time, or you're in and out of your car all day, having suits (and/or sport coats/slacks/shirts) with stretch enables you to have that trim-fitting silhouette without sacrificing comfort. I will rarely make myself a suit anymore unless the fabric has stretch.
Ideal Needs for Stretch:
Travel
Trimmer silhouette
Worn often
Big & Tall
Weddings (dancefloor)
 2. WRINKLE-RESISTANT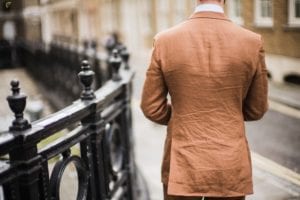 Source: https://www.permanentstyle.com/2017/07/the-guide-to-summer-jacket-cloths.html
Another one of our most requested features is a fabric that's "good on wrinkles."
Nothing looks worse than when someone wears a jacket that is incredibly wrinkled in the back or their pants look like they were wadded up on the floor before putting them on. We offer fabrics that are woven with a high twist yarn that enables crease recovery—meaning even if your jacket or pants become wrinkled during wear, the wrinkles will naturally release on their own.
Ideal Needs for Wrinkle-Resistance:
Travel by plane or car
Worn often (1-2x/week)
Worn for a long period of time
Wedding suit
 3. BREATHABILITY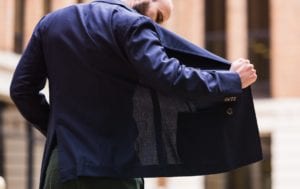 Source: https://www.permanentstyle.com/2017/07/the-guide-to-summer-jacket-cloths.html
Regardless of one's size, if you're a guy, you sweat—period. Almost every person who comes in to get fitted will mention one of their key issues they struggle with is being hot while wearing a suit. Whether it's the heat of summer, or even in the coldest of winter, wearing a suit can be uncomfortable if it doesn't breathe well.
We recommend fabrics that are porous (allows air to travel through the fabric that acts as a vent) and/or lightweight (>250 grams/9oz) if you're wanting to stay cooler even in the warmest of conditions.
Ideal Needs for Breathability:
Spring/Summer months
Wedding suit
Warm-natured (sweat easily)
 4. WATER-REPELLENT/STAIN-RESISTANT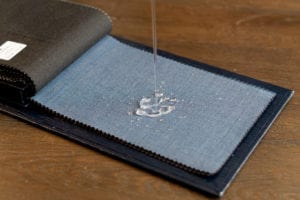 Considering most of my clients are in Nashville, where we've endured more rain lately than Seattle it feels like, having a suit (jacket and/or pant) that's water-repellent is very convenient.
We offer fabrics which are finished in a way that resists water and/or stains. Not having to worry about getting a drink spilled on you at a wedding is definitely a plus.
Ideal Needs for Water-Repellent/Stain-Resistant:
Rain/snow
Messy eater
Intoxication
 5. TRAVEL ABILITY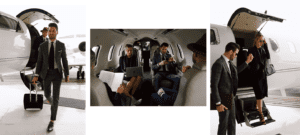 A large majority of my clientele often travel for work. Whether they're driving or flying, they request fabric that "travels well." Most everything we covered above falls into this category—Having fabrics with natural stretch, crease-recovery, and are breathable make up for the best travel suits. Even if you don't travel for work but you do for weddings, etc., being able to pack your garments in a suitcase or carryon and not worrying about the condition they're in once you get to your hotel is essential.
Ideal Needs for Travel Ability:
Worn on plane
Packing
Long car rides
At the beginning of every first appointment, we sit down and go over what your needs are when it comes to wearing suits. After discovering what your main objectives/uses are for needing them, we're able to point you in the right direction in regards to what fabric will fit your needs best.