Is It Time to Re-think the Wedding Suit?
June 12, 2019
Every groom deserves to look good on his wedding day. Unfortunately, most guys don't think about creating a custom wedding suit as an option. They either rent formalwear or go with an off-the-rack option from a big box store.
But, your wedding day isn't just any other day…so, why should you wear any other suit?
Your fiancée has spent hours (and $$$$) picking the perfect wedding dress to look her best for you, so why wouldn't you also create a look she'll always remember, too?

Why Every Groom Should Go with a Bespoke Wedding Suit
While keeping your bride the center of attention is probably good for more reasons than one, a bespoke suit gives you the chance to take your suit game to the next level. Here are a few ways a bespoke suit ensures you and your groomsmen look good on the big day:
You'll guarantee the suit fits. Brides and grooms both deserve for their attire to fit perfectly. With all eyes on you and your bride, you need the fit of your suit to be perfect. No matter how many tweaks or alterations you can make to an off-the-rack suit or tux, the tailoring done during the Richards Bespoke process ensures your suit fits perfectly on the big day.
You'll wear it again. Rent a suit or tuxedo, and you'll have to return it. Buy a cheap suit, and you'll have to replace it. Design a custom-tailored suit or custom tuxedo for your big day, and you'll have a suit that will never go out of style and will remain in your closet for decades.
You'll get to add your own personal touch. Designing your own bespoke suit gives you the chance to customize your entire look. Want to find subtle ways to match your bride's dress or other groomsmen's outfits? Want a unique or special lining inside your jacket? A bespoke suit provides hundreds of ways to add your own personal touch to your wedding suit.
You'll show her how much you care. One of our favorite things to do with clients is finding simple ways to show their bride how much they care. We can help you create a variety of unique special touches for your wedding suit—from monogrammed wedding dates to matching swatches from the bride's dress as pocket squares and more. I can also create countless customized matching items for the father of the bride. Whatever option you choose, we guarantee this will create an experience that will take her breath away.
Your photographer will also benefit. Wedding photographers love when you buy custom suits, as groom and groomsmen photos can often reveal poorly-fitting attire.  Since photographers want to be able to use wedding photography down the road for promotional pieces, if your suit fits properly, they will likely use those images in their portfolios.
Don't Forget Your Groomsmen
When it comes to your groomsmen, we have packages and solutions available to help them look and feel just as confident as you. Instead of paying for rental suits they'll never see a return on, pitch your groomsmen the idea of using that money to go towards a custom suit of their own. We have several packages available that makes purchasing a custom suit more affordable. I can even host an event at the Richards Bespoke showroom where everyone can come by, have a drink, and get fitted/design their suit or tux.  Even if you do go with another suit option to rent or buy, we can help you create unique ways to gift your groomsmen with a customized accessory for their suit, including monogrammed or matching ties, pocket squares, or even matching socks, belts, and more.
​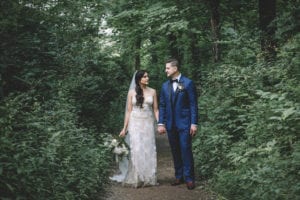 Let Us Help You Create a Look She'll Always Remember
Your wedding day will be the most special day of your entire life. Richards Bespoke can help make your big day even more special. Learn more about our bespoke suit packages for grooms and groomsmen, or let us know if there's a specific vision you have that we can help fulfill.