How to Choose the Right Suit for the Season
May 16, 2019
We all know there are certain fashion rules for every season. But what are the rules for custom bespoke suits? This is a question I love discussing with our clients. When it comes to choosing the right suit for the season, there are two important factors to consider: color & fabric.
The color of the suit should represent the season. What color do you think of when October rolls around? Finding colors and patterns that match the particular season is key for stepping up your suit game without standing out like a sore thumb.
The fabric you choose is equally important – especially when you're trying to escape the summer heat and still dress stylish. But there are other advantages to investing in seasonal fabrics beyond staying comfortable year-round. You'll look more appropriate in all weather conditions. Your clothes will last twice as long, allowing for crucial periods of rest and maintenance. Your wardrobe will have much more variety (colors, textures, patterns, etc).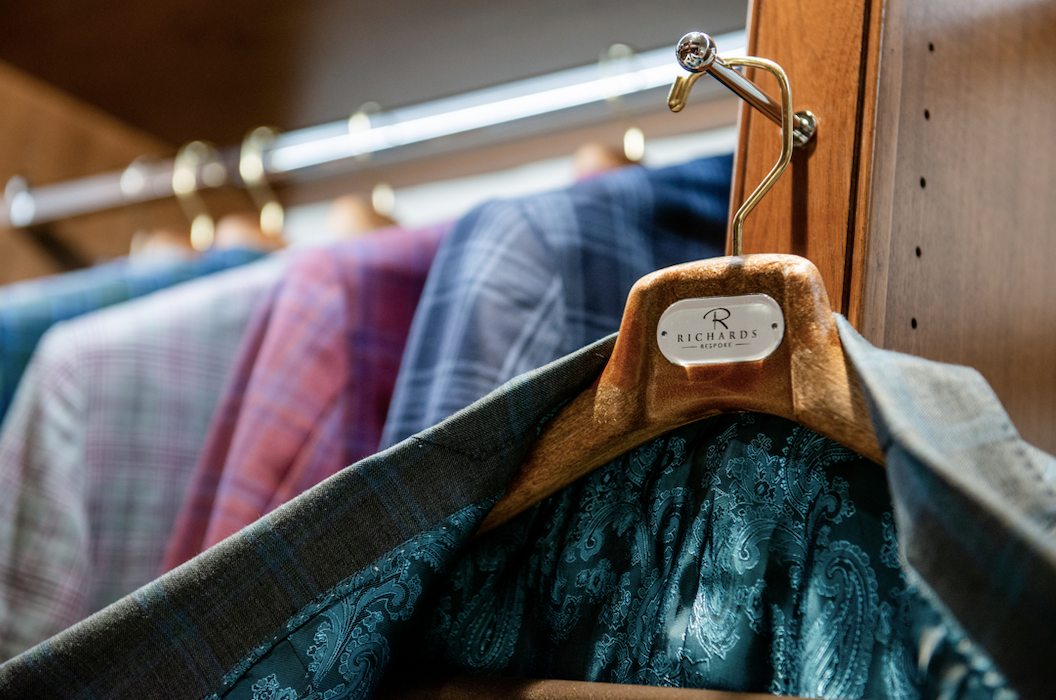 Choosing the Right Suit for the Season
So what color and fabric rules should you consider in each season? Here are a few recommendations I often share with our clients each season…
Spring Suits
Spring colors are light and warm.  Most wardrobe options include yellows and pinks as classic examples — all of the warmer pastels are part of the spring palette. And while you may want to rock a pink suit, there are ways to weave in spring colors into the patterns of your suits. For many clients, a light grey suit with blue pattern has become a popular spring option.
When it comes to fabric, Hopsack is a popular option because of it's breathability and unique "basket-weaved" texture. It is a type of loosened weave that allows for a cloth to be very breathable.
Summer Suits
Summer is all about cool colors: light purple, blues, and bright greens. These are all options for weaving into a lighter colored suit and wearing with a pair of well-fitting khakis.
When it comes to fabric choices, linen is your safest option. Because it is made from the fibers of the flax plant, linen has a visible weave and great natural texture. Cotton and fresco are also fabric options to consider in the fall.
Suits for Fall
The best color options for fall suits include dark, warm colors. Think fall leaves such as brown, burnt orange, and dark red. Fall also provides options for different patterns including herringbone, plaid, and houndstooth (I'm looking at you Alabama fans). These patterns are often found on dark and earth-toned fabrics, which makes it a perfect complement to the fall season.
When it comes to dressing for a transitional season like fall, finding the right fabric is notoriously tricky. Wool flannel suits are perfect for fall. They tend to be slightly heavier which means they provide a better drape and better insulation.
Suits for Winter
Black, grey, navy blue, and pine green are examples of dark, cool winter colors.
When it comes to the best fabric for winter suits, consider Tweed or "Worsted" Wool. Tweed, usually made of heavy wool, is tough, rugged and country-inspired.  'Worsted' refers to wool that is combed and pressed, meaning yarns are more consistent in length, resulting in a finer fabric that is more pleasing to the touch.
Let Richards Bespoke Help You Look Your Best in Every Season
While I often recommend that clients focus on the four core suits every man should have, I love working to help them create a custom suit for a particular season. If you're looking to expand your wardrobe or find the right look for the next season, contact us to schedule an appointment.